I've been looking for ways to slim down the amount of equipment I need to bring to record conferences talks, both to make it easier to travel to other cities, as well as to speed up the setup time during an event.
This post outlines my current favorite set of hardware for recording and livestreaming conference talks and meetups. I'm able to fit all of this into a backpack and carry it on my bicycle to local events, or take it on planes to events in another country.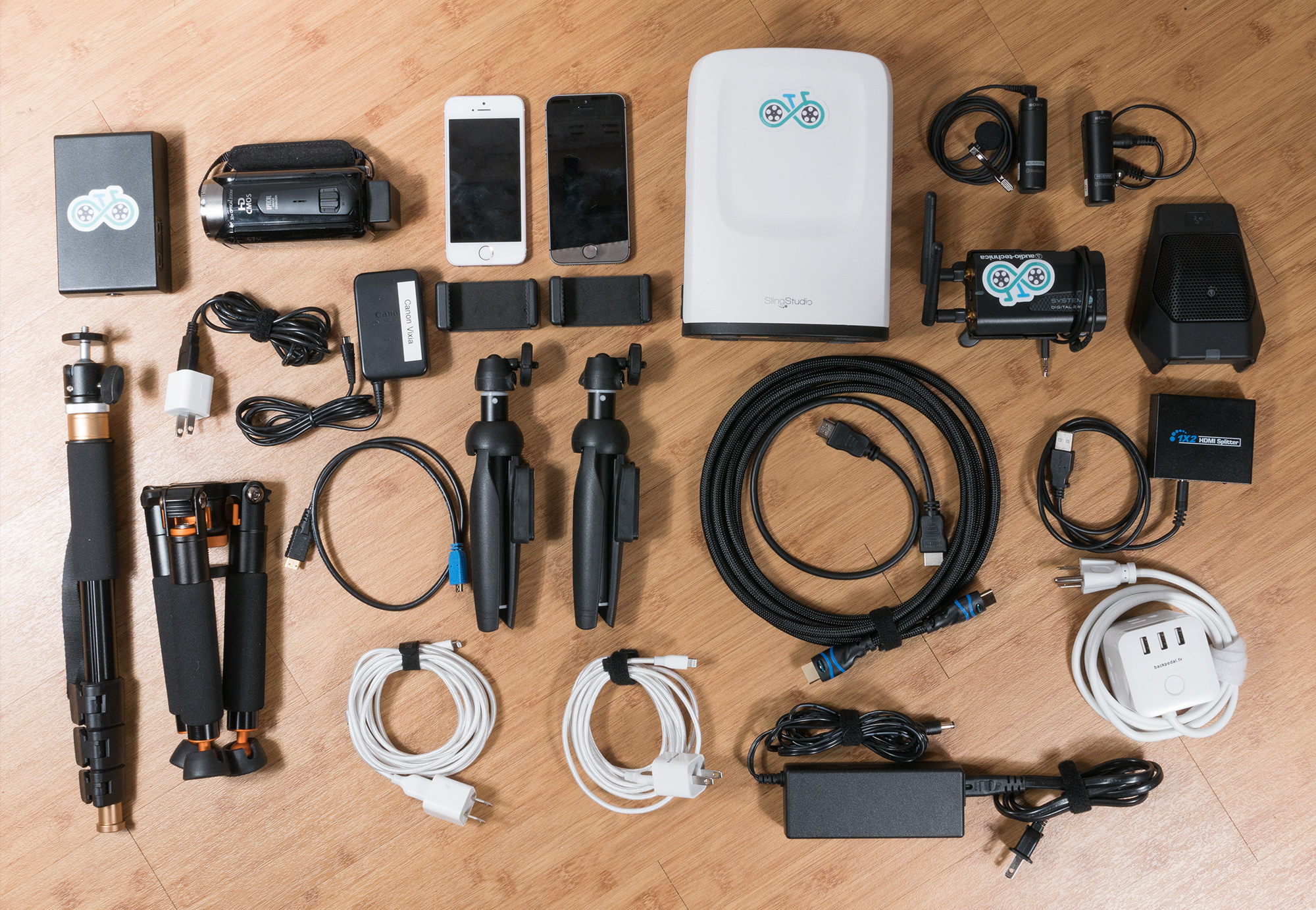 Video Switcher
The SlingStudio system has been a total game changer, packing an unbelievable amount of power into a tiny box.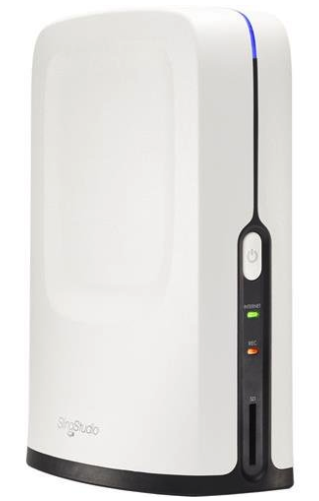 At the core of the system is the SlingStudio Hub. This is the brains of the operation: a video switcher, encoder, and recorder. This device broadcasts its own wifi hotspot, which you can then connect your cameras and controllers to. You can use any HDMI camera as a video source by using a CameraLink to wirelessly connect the HDMI device, or you can use any iOS or Android device as a camera as well. This provides a great opportunity to have a super compact rig, since iPhone cameras are actually pretty good now.
For small productions, I will bring one iPhone camera, and one camcorder connected via HDMI. The iPhone provides a good enough picture for a wide shot of the room, and the camcorder provides good optical zoom and low light capability for a close-up of the presenter.
The rear of the device provides a few ports, most importantly an HDMI input and audio input, which means you have a built-in way to grab the slides from the presenter as well as a good audio feed.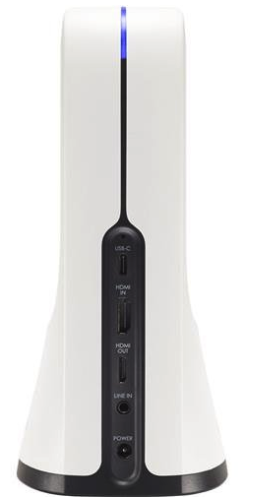 I usually plug in an HDMI 1x2 splitter into the input, so that I can send the presenter's computer to the house projector as well as this device. This makes the computer show up as a camera angle in the switcher. The hub can accept a huge variety of HDMI resolutions as the input and it handles scaling itself. I haven't yet found a computer that this device couldn't handle.
Switcher Controller
The Hub is controlled via an iPad or Mac app. I usually use an iPad since it's nice having a dedicated device with a touch screen for this, plus it's easier to walk around with the iPad.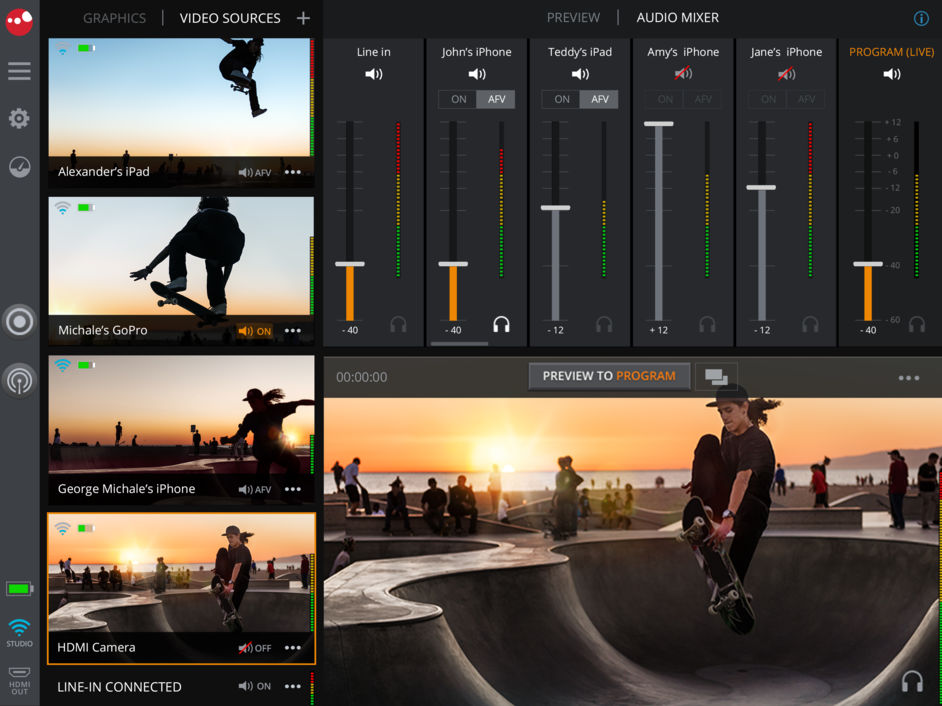 You start by connecting the iPad to the Hub's wifi hotspot that it broadcasts, then when you launch the SlingStudio Console app, it will connect to the Hub and provide you with a controller interface to see all the camera angles and switch between them.
Cameras
Since my goal is to have this pack up entirely in a backpack, I wanted to find the smallest options for cameras, even if it comes somewhat at the expense of quality. I typically use one or two iPhone SEs ($100 used), and a Canon Vixia HF R500 ($200). (The R500s are discontinued, replaced by the Canon Vixia HF R800, which is only a minor upgrade).
Close-Up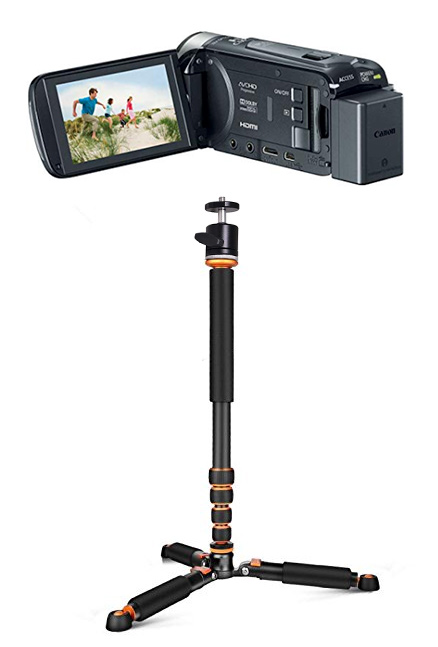 I use the Canon for a close-up shot of the presenter, since it has optical zoom and is pretty good at low light. The camera itself doesn't weigh much, so it can fit on a small tripod. I use a short tripod with a monopod extension, which has the benefit of having a pretty small footprint. This wouldn't hold up a DSLR when fully extended, but handles the Canon just fine.
The Canon camera also has an audio input, so I can connect a wireless microphone receiver to this such as the super compact Sony ECMAW4 Bluetooth microphone.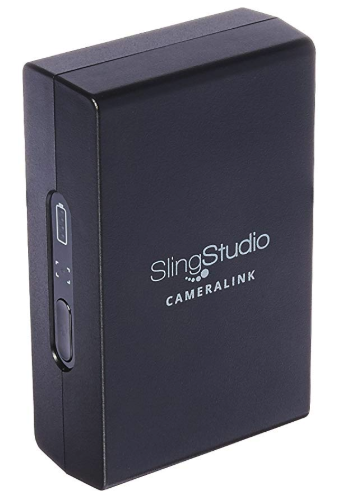 The Canon provides a mini HDMI output, which connects to the micro HDMI input on the SlingStudio CameraLink transmitter. The CameraLink connects wirelessly to the Hub, so I can place the camera wherever. The battery in the CameraLink lasts a couple hours, long enough that I don't need to worry about it for a short talk, but if I'm going to be filming for a whole evening I'll make sure to connect it to micro USB power or at least an external battery pack.
Wide/Rear View

With one good close-up view of the presenter, I just need a wide view as a secondary or fallback camera angle. I usually place this camera in the back of the room so that the audience as well as the projector are visible. Since I have both a close-up of the presenter as well as their slides brought in directly, I can get away with using an iPhone as this camera angle despite its slightly reduced quality.
The iPhone SE has a pretty decent camera. It's the same cameras as in the iPhone 6s line, but you can get a used iPhone SE for about $100 now, making this the cheapest way to get another camera angle into the mix.
To use the iPhone as a camera, you first connect the iPhone to the Hub's wifi hotspot that it broadcasts. Then you launch the SlingStudio Capture app and it will instantly show up as a camera angle in the Hub. You can long-press on the iPhone screen to lock the focus and exposure as well, which is useful when your presenters have slides that switch between white and black backgrounds, which would otherwise confuse the auto-focus and auto-exposure that the phone does.
Running the camera and wifi on the iPhones the whole event would drain the battery in about a half hour, so I always make sure to plug in the phone during the event. The stock charger cable is usually too short to do anything with, so I bring a 10' lightning cable which gives me enough length to run it to a power outlet somewhere nearby.
Audio
Audio is of course a huge part of getting a good quality recording of a presentation. The camera mics built in to camcorders or the iPhone will not get good results at all, since they aren't that good to begin with plus the devices will be typically 10+ feet from the presenter. Instead, you need a microphone super close to the presenter, like a lav mic or handheld mic.
Depending on the situation, I have a few different setups I use for capturing audio. If the venue is providing amplification for the presenter, then I first try to find a way to tap into the house audio. The Hub has an 1/8" input, so I just need to make sure to place the Hub close enough to the house mixing board to run an audio cable to it.
If I need to bring my own microphones and audio gear, or if I'm recording a discussion around a table, then I'll bring either a wireless mic or wired stage or boundary microphones.
Wireless Microphones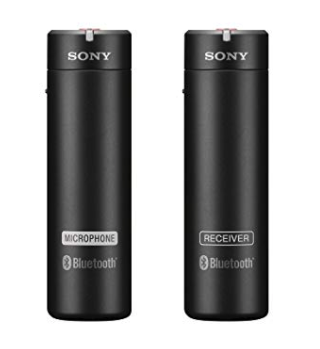 The smallest wireless mic I've found is the Sony ECMAW4 Bluetooth microphone. The transmitter and receiver are both the same shape, both only slightly larger than the AAA battery that powers them. It's relatively inexpensive too, at $150. There is a microphone built in, but it also has an 1/8" jack to connect a lav mic. You definitely get better audio using a lav mic, so if you can manage asking the presenters to wear that I highly recommend it.
You can connect the receiver to either the SlingStudio Hub or the Canon camera using a 1/8" cable.
Tabletop Microphone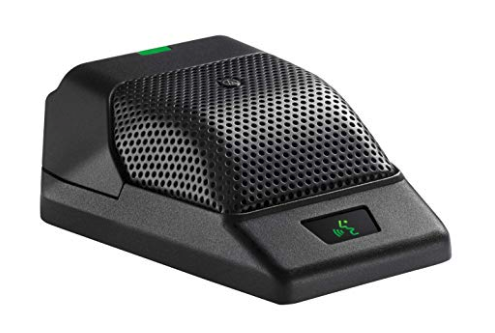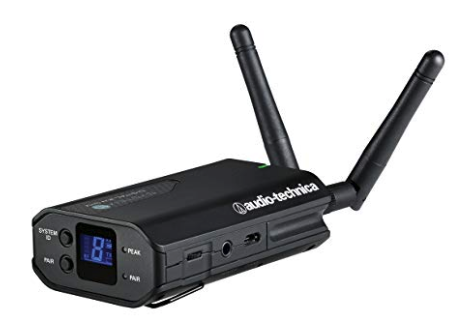 If you need to capture audio around a whole table, or if you can't get your presenters to wear a microphone, then the best option is to place a boundary microphone on the podium.
Audio Technica makes a fantastic wireless mic system that runs on 2.4ghz rather than a dedicated wireless mic frequency. There are some new FCC regulations coming that will re-allocate the frequencies that many wireless mics use, so it will no longer be legal to operate many of those. This system uses 2.4ghz, the same frequencies that Bluetooth and Wi-Fi use, so will always be safe to use.
Pair the ATW-T1006 Boundary Mic with the ATW-R1700 Receiver and connect the receiver to the Hub. The benefit of using a wireless mic for this, of course, is you don't need to worry about placing the Hub nearby the stage or podium. This also cuts down on the amount of wires you need to bring, which can save a lot of packing space.
Wired Microphones
For one reason or another, you may find it better to use a wired microphone. A wired microphone will usually provide better audio quality and be more stable than wireless mics, though it does come at the cost of more wires to carry and more setup time to connect them.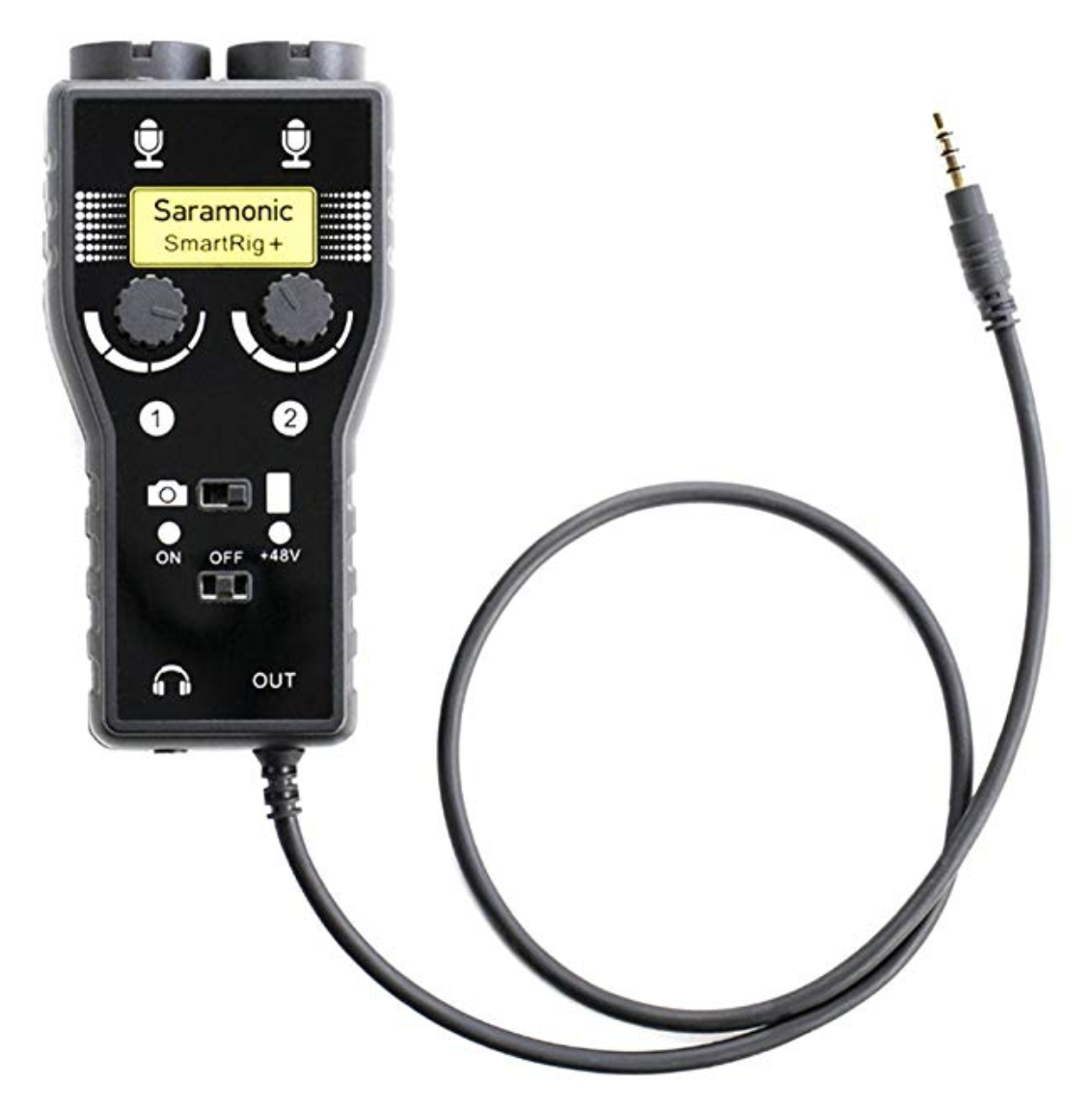 The Saramonic SmartRig+ 2-Channel Mixer is a small mixer that provides phantom power so you can use nice microphones with it. It plugs into the 1/8" jack on the SlingStudio hub. It does run on a 9V battery with no external power option, although I haven't been able to drain the battery during a normal one-day event yet.
I have two microphones I usually use depending on the situation.
Shure Boundary Condenser Microphone - This microphone will pick up everyone sitting around a table. You can also set it on a podium to not worry about your presenters fiddling with microphones. If you have a really large room, connect two of these to the mixer.
Shure SM58 - The Shure SM58 is a long-time standard in stage microphones. It works best when the speaker is a few inches away from the mic, and it does an amazing job of isolating sounds to avoid background noise. You'll need to either ask your presenters to hold the microphone, or give them a stand that places the mic close to their mouth.
Livestreaming
Once all the audio and video sources are connected to the hub, you can press record and everything gets recorded as both the mixed track as well as individually. If you make a mistake while live cutting between camera angles, you can always recover by grabbing the original footage from the camera angle you need.
The other amazing thing is the SlingStudio Hub also has built-in streaming capabilities. It can connect to the venue's wifi, and then connect to Facebook or YouTube to broadcast a livestream. This makes it super easy to both stream an event live, while also recording the raw video for later editing.
There's not much more to say other than that, pretty much you just connect to a wifi hotspot and press stream. I've had good luck even streaming from an iPhone's wifi hotspot. You can choose the bitrate to stream at, anything from 2-5 mbps will give you a good result.
I'm super impressed that this device lets me pack so much into a single package instead of using separate devices for each. This all fits into a backpack, along with my computer and other electronics I normally bring.
Published Videos
Here are some videos I've produced with this rig so you can see the final results!