Today I added some additional settings to OwnYourGram. You can now configure a whitelist and/or blacklist of keywords to control which of your Instagram posts are imported to your website.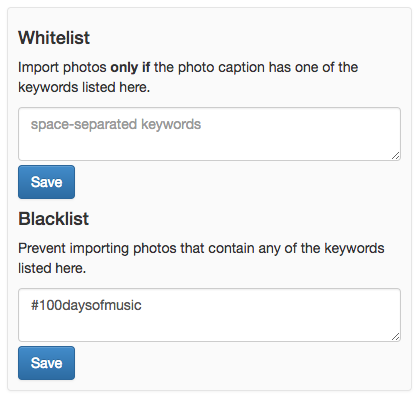 I've been posting my #100DaysOfMusic posts on Instagram and having OwnYourGram post them back to my website, but over the past week I've found some problems with that approach. Instagram videos are limited to 60 seconds, and one of my songs was 90 seconds long. Instagram also runs some pretty heavy compression on the audio, which seems to be optimized for speech, so the music doesn't come through as cleanly as I wanted.
Because of this, what I've been doing is replacing the video on my website after OwnYourGram does the initial import. This workflow ends up being way too complicated, so what I'm going to start doing instead is posting the videos to my website directly. However, I still want to share them on Instagram, but I would end up with OwnYourGram posting another copy of it back to my website.
With the new blacklist setting, now I can blacklist the "#100DaysOfMusic" tag so that OwnYourGram will skip importing those videos. While I was at it, I also added a whitelist in case someone has a use case for that as well. You can use the whitelist and blacklist together to make a rule that imports photos matching a keyword as long as another keyword is not present.
I'd love to hear if you end yup using either of these settings!