It's been a few weeks since I launched the new events site for IndieWeb events! In that time, the community has already hosted 7 events, and scheduled 15 more! I've continued to push a few minor changes to the site since the launch, primarily around discovery of events with tags.
The home page now lists a few "significant" tags at the top. These are tags used by two or more upcoming events. 

This strikes a good balance between having list that isn't overwhelmingly long, and also provides a good experience for discovering events when clicked. I wanted to avoid the case of clicking a tag and finding only one upcoming event.
I also added a new page "Discover", which for now shows just a list of tags in a sort of tag cloud. I spent some time on the sorting of the list, which places tags used in more than one city up front, and then tags used in just one city are sorted alphabetically afterwards.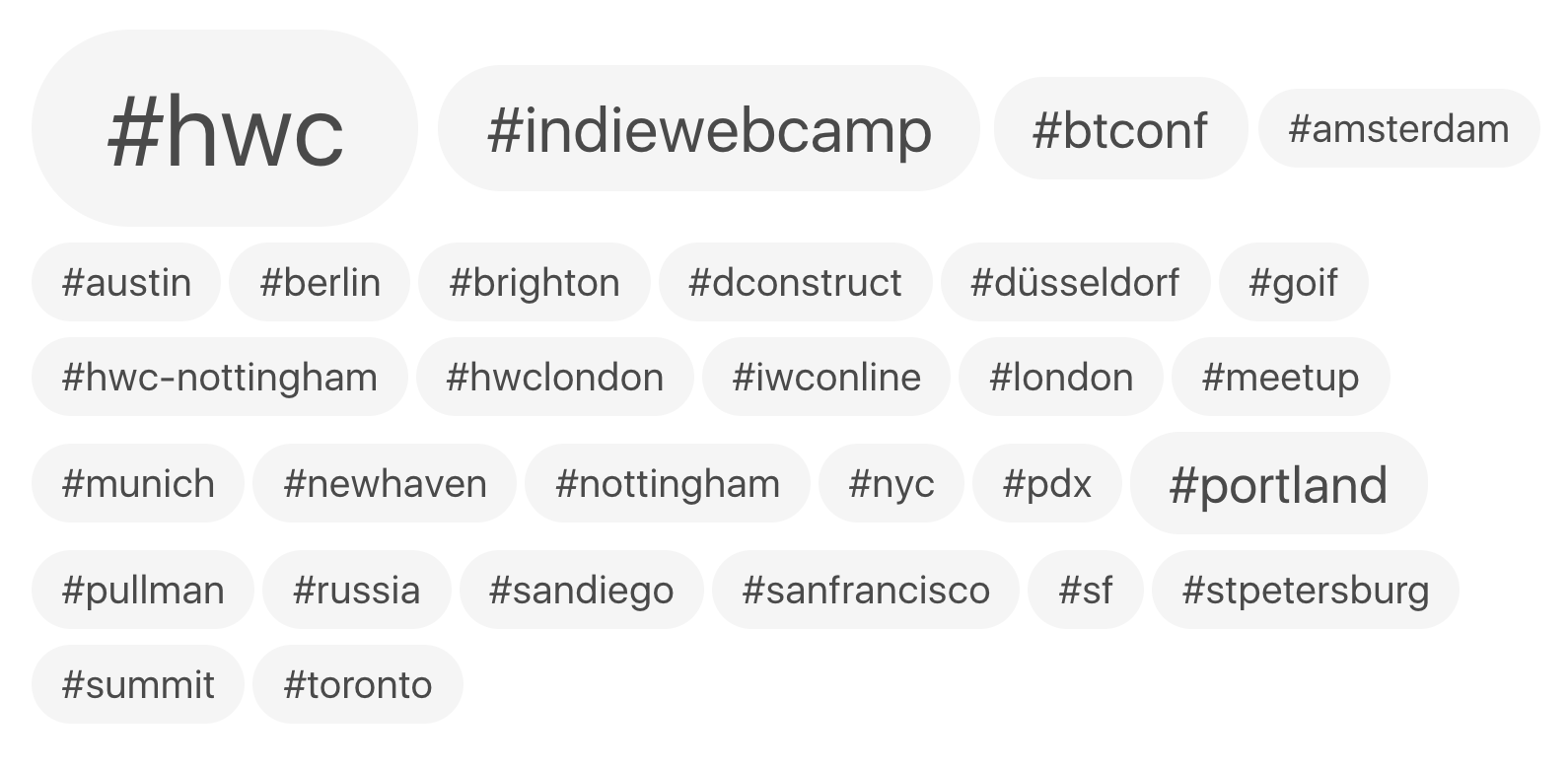 The size corresponds to the number of events with that tag. You can see that they aren't sorted strictly by usage frequency. I think this does a pretty good job of showing tags relevant across a wide geography up front, then narrowing to the more specific city tags afterwards.
Open Source!
I had always intended on making this project open source, but I wanted to tidy up a few things before doing that. I initially had an ambitious list of making this an easy out-of-the-box solution at the time I made it open source, but I wasn't able to finish that list in time. Instead, I scaled back my open source goals to at least just have a nice README with installation instructions, even if the installation process still relies on too many moving parts than I am comfortable with.
Today I am releasing the project as open source under the MIT license! The project is called Meetable, and I've even registered the domain meetable.org to eventually launch a one-page website about the project there.
There are instructions on installing and configuring it, including full documentation of the config file.
I've also made a new milestone on the GitHub project for "Version 1.0" where I've collected all the things I want to do before I consider it really usable by others.
So I hope you will join me in continuing to make this site better! And hopefully it will be useful for other communities as well!