Hello! Only a couple more days before we all come together for IndieWeb Summit! I am very much looking forward to the week, and I hope you all have a fantastic time while you're in Portland.
Here are a few last details before we meet. You'll probably want to save this update so you can refer to it as you make your way to Portland for the festivities.
Weather
It looks like we'll have some pretty great weather, much less hot than last year! The forecast is showing a high of 75 and low of 50, with a chance of rain Monday morning and dry the rest of the week. I'm looking forward to sharing Portland's nice weather with you in contrast to last year's 100+ degree days!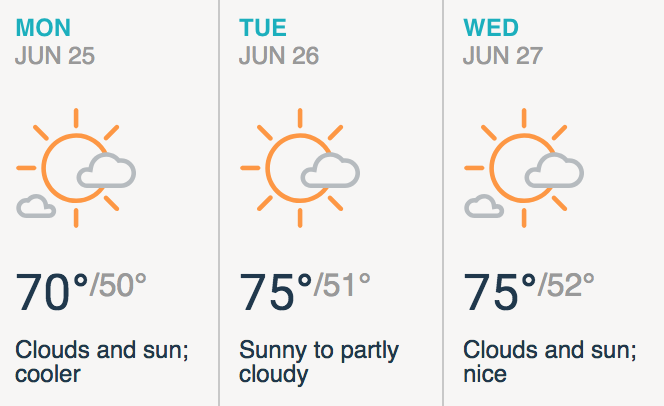 Breakfast and Lunch
We will be providing bagels, fruit, and protein bars on Tuesday and Wednesday mornings thanks to GoDaddy. Coffee will be available all day thanks to Mozilla!
Lunch on Wednesday will be provided at the venue thanks to Okta. We'll have a taco bar with gluten free, vegetarian and vegan options! Tuesday lunch will be on your own at any of the nearby food carts.
Monday Pre-Party

On Monday evening, we'll be hosting a pre-party at Pine Street Market in downtown Portland starting at 5:30pm.
We'll have drink tickets available thanks to Name.com, and anyone is welcome to come to the pre-party!
Pine Street Market has a variety of food and drink options, including burgers and veggie burgers, ramen, pizzas, bratwursts and German pretzels as well as Salt & Straw ice cream, excellent coffee, smoothies and fantastic cocktails.
Getting Around
We'll be at the Eliot Center at 1126 SW Salmon St, in the Buchan Building. The doors open at 9:00am on Tuesday and Wednesday.
Please note the entrance is on Salmon Street. If you enter from another street you'll be quickly lost inside the rest of the First Unitarian Church. The picture below shows what our entrance looks like. Look for either "1226", or "Buchan Building". We'll also have an IndieWeb Summit sign on the door.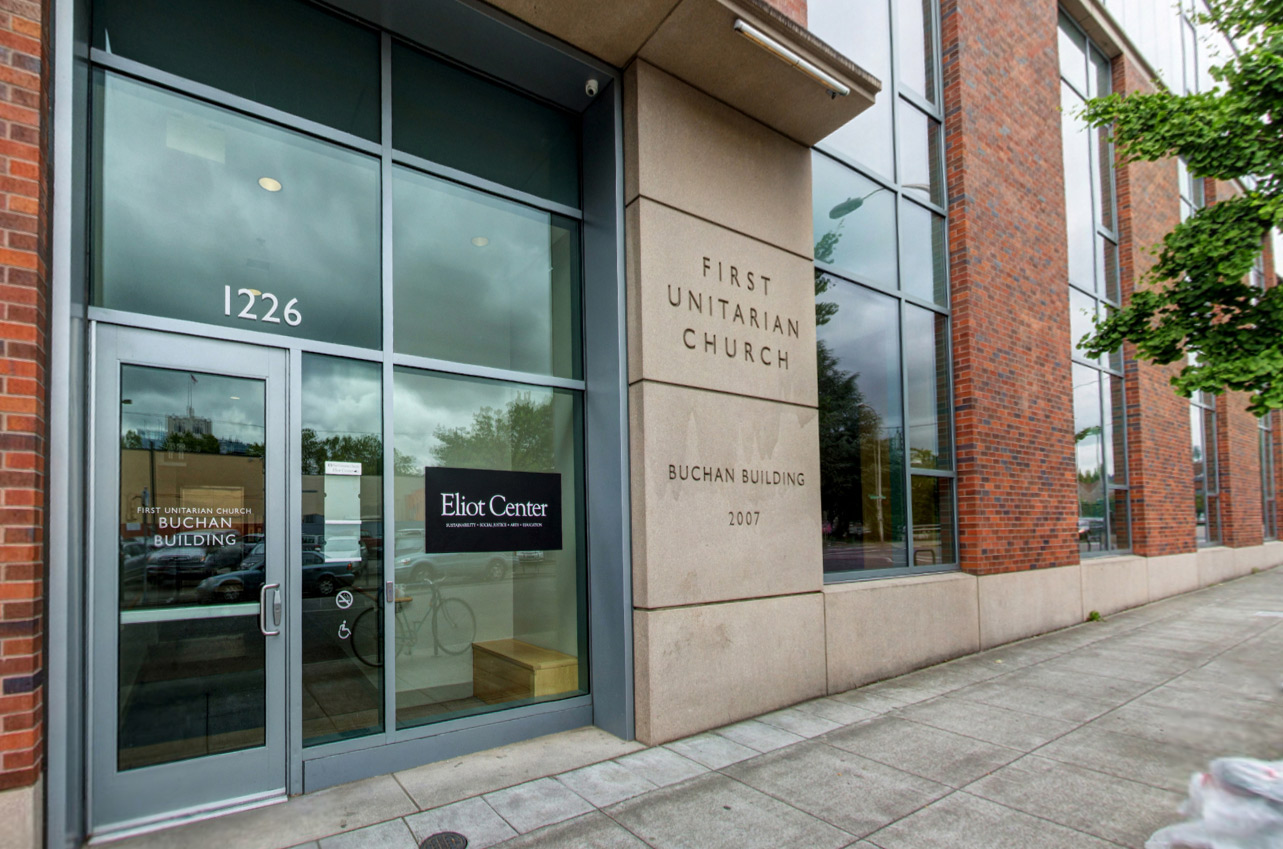 Public Transit
There is a streetcar that runs North/South along 10th and 11th Avenues that will drop off a couple blocks from the venue.
TriMet runs the buses and light rail here. The cheapest way to get into town from the airport is to take the MAX red line which picks up at the airport and drops off at Pioneer Square downtown. It's $2.50 for a 2.5 hour ticket or $5 for an all-day ticket.
If your phone supports Apple Pay or Google Pay, you can just tap your phone to buy a Tri-Met or Streetcar ticket using the "Hop" readers at every stop! It's by far the easiest option. Make sure you tap your phone at the stop before boarding. You don't need to tap out when you get off. Otherwise, you can use a credit card or cash to buy a ticket at most MAX and Streetcar stops.
Remote Participation
We will have people participating remotely who couldn't come to Portland this year! The main room will be set up for remote participation with cameras and screen sharing, and all the sessions will be recorded. The two breakout rooms will have a camera setup for remote participation as well. More information and the relevant links are on the wiki.
Related Events
Donut.js
On Tuesday night, Donut.js is having their monthly meetup featuring a fun collection of talks! Despite the name, only one of this month's talks is actually about JavaScript. The event starts at 6pm and there are three 15-minute talks. Donuts and La Croix are provided. Your IndieWeb Summit ticket will let you register for Donut.js for no additional cost! Just use the coupon code INDIEWEBDONUTS when you register at donutjs.club/tickets.
Open Source Bridge
Friday is the 10th and final year of Open Source Bridge. If you're still in town on Friday, this will be a great event to attend! You can read the Open Source Bridge blog for more details about what to expect. You will need to register separately for this event.
Join the Chat
If you haven't already, join our Slack room or IRC channel (they're connected) and introduce yourself! We'll be using the chat during the event to take notes, share links, and communicate with the remote participants.
Code of Conduct
As a reminder, we have a Code of Conduct that applies to IndieWeb spaces both online and offline.
Thanks to our Supporters
I'd like to give a shout-out to our sponsors who make all of this possible! A huge thanks to GoDaddy, Name.com, Okta, Mozilla, and Bridgy, as well as our monthly supporters and everyone who contributed specifically for this event! Also special thanks to our venue sponsor Stumptown Syndicate.
That's all for now! Looking forward to seeing everyone on Monday!