Just pushed a few changes to OwnYourGram this morning! Here's what changed:
You can now see the schedule of your account so you know when to expect photos! You'll see which tier you're at, and how long until your account is next polled.

You can now add a list of tags that will be sent along with every photo! This is useful if you want all your photos to be tagged "photo" or "instagram" for example.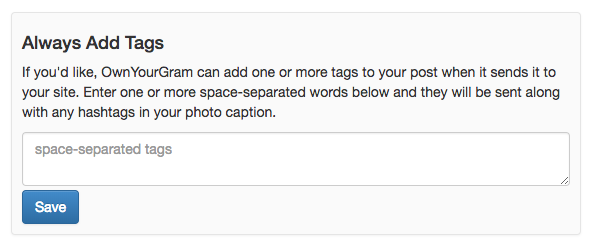 I also updated the documentation to include an example of the JSON post format that OwnYourGram can send. 

If your site has a Media Endpoint, then OwnYourGram will first upload your photos to your Media Endpoint, and include those URLs in the Micropub request. 
That's it for now! Happy OwnYourGramming!