Hello! Only a couple more days before we all come together for IndieWeb Summit! I am very much looking forward to the weekend, and I hope you all have a fantastic time while you're in Portland.
Our guest list is all full up! If you won't be able to make it this weekend, please reply to this message and let me know. That will free up some space for people on the waiting list.
Here are a few last pieces of information before we meet. You'll probably want to save this update so you can refer to it as you make your way to Portland for the festivities.
Weather
The good news is there's almost 0% chance it will rain this weekend. The bad news is it's going to be one of the hottest weekends of the year. The forecast is predicting a high of 95°F on Saturday and 98°F on Sunday! It does cool down to the low 60°s in the evenings, so keep that in mind as you're packing.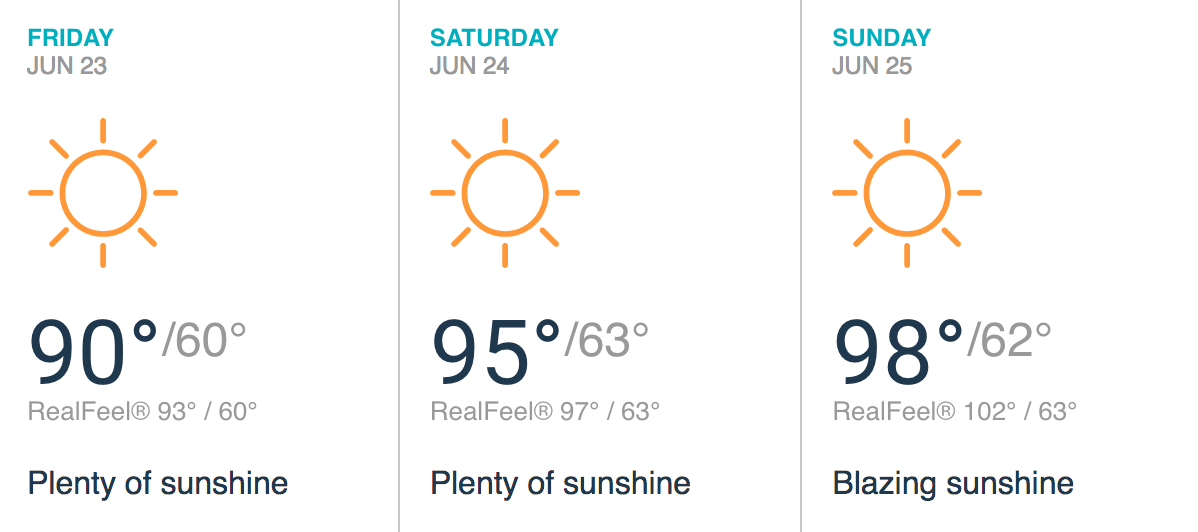 Breakfast and Lunch
We will be providing hot breakfast on Saturday and Sunday mornings thanks to our sponsors, and we'll have coffee available all day as well!
Lunch on Sunday will be provided at Mozilla. We'll have a taco bar with gluten free, vegetarian and vegan options! Saturday lunch will be on your own at any of the nearby food carts.
Friday Pre-Party

On Friday evening, we'll be hosting a pre-party at Pine Street Market in downtown Portland starting at 5:30pm. Pine Street Market has a variety of food and drink options, including burgers and veggie burgers, ramen, breads and pizzas, as well as Salt & Straw ice cream, excellent coffee, and fantastic cocktails.
We'll have drink tickets for everyone who has registered, but anyone is welcome to come to the pre-party!
Getting Around
Mozilla Portland is at 1120 NW Couch St. on the third floor. There will be a building security guard who will let people in in the mornings and can direct you to the right floor. The doors open at 9:00am on Saturday and Sunday.

Public Transit
There is a streetcar that runs North/South along 10th and 11th Avenues that will drop off right at Mozilla. You can buy a ticket with a credit card at any streetcar stop, or buy a ticket with cash on board. The fare is $2.
TriMet runs the buses and light rail here. The cheapest way to get into town from the airport is to take the MAX red line which picks up at the airport and drops off at Pioneer Square downtown. It's $2.50 for a 2.5 hour ticket or $5 for an all-day ticket. Your TriMet ticket will also let you ride the streetcar!

Remote Participation

We will have people participating remotely who couldn't come to Portland this year! The main room will be set up for remote participation with cameras and screen sharing. More information and the relevant links are on the wiki.
Join the Chat
If you haven't already, join our Slack room or IRC channel (they're connected) and introduce yourself! We'll be using the chat during the event to take notes, share links, and communicate with the remote participants.
Code of Conduct
As a reminder, we have a Code of Conduct that applies to IndieWeb spaces both online and offline. Since the IndieWeb Summit is hosted at Mozilla, their Community Participation Guidelines apply to this event as well.
Thanks to our Supporters
I'd like to give a shout-out to our sponsors who make all of this possible! A huge thanks to Mozilla, Bridgy, Donut.js, CSVConf, as well as our monthly supporters and everyone who contributed specifically for this event!
That's all for now! Looking forward to seeing everyone on Saturday!
-- aaronpk