100 Days of Music
I wrote 100 short songs in 100 days! Listen now
Singles
An Ordinary Day (2008)
2:17

This is the soundtrack to
An Ordinary Day
, a short film created for my Digital Video class. The goal was to write an orchestral film score that overexaggerates the video.
Aaron Parecki
Nutella Commercial (German, 2004)
0:48

Aaron Parecki
We Keep Buying (2003)
3:15

Lyrics by Mariama Loos-Diallo, music by Aaron Parecki.
Aaron Parecki
Thunderdance (2002)
4:20

An experiment in writing a piece for live piano accompanied by computer orchestra.
Aaron Parecki
Persistence (2002)
3:55

A piano solo piece.
Aaron Parecki
Erlkönig (2001)
4:14

The soundtrack to
Erlkönig
, a silent film set to music. The music is a collaboration between myself and Jeremiah Wasson.
Aaron Parecki and Jeremiah Wasson
Various Artists
Emo Gnome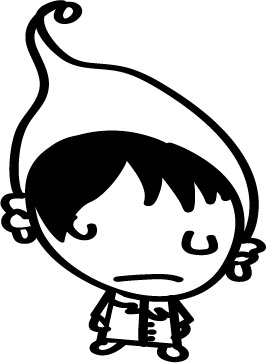 Emo Gnome began as a drawing on our whiteboard by Katy, and soon left the flat white world to go on to make some very...emo...music. He currently has two songs out. Listen now!
Wiimote Music
I created two songs using the Wiimote. They are better watched as videos so you can see what's going on. Check out my Wiimote Music page.
Portland Jewish Festival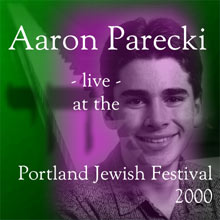 This CD is a recording of my live performance at the Portland Jewish Festival in July 2000. I performed some new arrangements of a few songs on Perspectives, and I wrote some new songs also. Some songs are my arrangements of Jewish melodies. It was recorded in front of a live audience.
1
Inspirations
4:57

2
Erev Shel Shoshanim
4:04

3
Jumpin' Java
4:13

4
Snow Flurries
2:00

5
Timeless
4:32

6
Summer Days
2:35

7
Hine Ma Tov
5:31

8
Journeys
1:56

9
Vanishing Point
5:02

10
Ose Shalom
4:36

Aaron Parecki
Live at the Portland Jewish Festival (2000)
Perspectives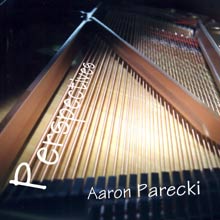 I made this CD as my eighth grade project for school in 1999. There are 13 songs, some are piano solo and some are synthesized ensembles. I recorded it at a professional studio and it was also duplicated professionally. All the songs are original compositions.
1
Good Vibes
4:15

2
Journeys (Piano)
3:20

3
Daydreams
2:43

4
Summer Days (Piano)
2:32

5
Night Visions
1:28

6
Ginger
3:35

7
Snow Flurries
2:00

8
April's March
1:50

9
Rolling
4:09

10
Night Visions (Piano)
1:55

11
Journeys
1:56

12
Summer Days
2:35

13
Vanishing Point
5:02

Aaron Parecki
Perspectives (1999)